'Werewolf' Dating Sites*
Along with Werewolf Passions (the site you are on now), the sites listed below all focus on connecting singles with a passion for 'all things horror'. While we haven't found any other dating sites (aside from Werewolf Passions) that focus on connecting singles around the specific 'like' of werewolves, werewolf books, movies, etc., there are plenty of dating sites focused on fans of horror and 'monsters'. While the sites below are not werewolf-specific, there are a number of them focused on vampires and gothic themes. If you are looking for a great dating site focused on Werewolves or Werewolf Loving Singles, then it seems like your best bet (aside from this site) is to look into the MANY horror-lover related dating sites below to choose from! Check out a few to see if any look like a good fit for you.
AD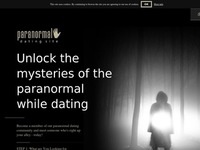 Paranormal Dating Site
Find Paranormal Lovers!
If you believe in ghosts and you'd like a partner who also believes in a paranormal related afterlife, then Paranormal Dating Site could be perfect for you. Find other like-minded singles who are likely to own a ouiji board, tarot cards, or at least believe that it is possible to peer beyond the veil of life as we know it. Join for free and begin your search for fellow paranormal loving singles today!

Meeting Goths
"Connect with Goth singles living near you!"
If you are a darker soul looking for your gothic soul mate, Meeting Goths is a great place to start. Lingering in the shadows of the site are many like-minded goth loving singles. Join to meet them now.

Ghost Chat City
Meet Ghost Loving Singles!
If ghost stories and horror movies are your thing, then you may enjoy Ghost Chat City, where you can meet other paranormal believers. Find other singles who are at least open to the idea that ghosts are real. Join for free today and chat with fellow ghost lovers or at least tell a few ghost stories.

Vampire Dating Connexion
Meet Vampires! Sign Up and Find Love Tonight!
Whether you are a vampire or you are interested in meeting one for dating or romance, Vampire Dating Connexion has been designed to connect the living and the undead.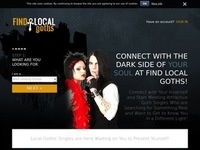 Find Local Goths
"Connect With The Dark Side Of Your Soul At Find Local Goths!"
"Being a Goth is not just about what you wear, it's about so much more than that. Being a person who understands the Gothic lifestyle is about the beauty in art that revels in the dark side of life. Using the experience of all the pain and torture that one has lived through and turning it into poetry or literature, and using clothing, makeup, and piercings to express themselves."

Vampire Dating
Start searching the Vampires in your area tonight!
This site can be a bit boring during the day because most of the members are sleeping. Of course, due to timezone differences, you may find vamps from other areas online. If you are looking for a local vampire for dating and romance, you may have to focus on the time between sunset and sunrise.
AD

Gothic Match
Online Gothic Social Networking Site for Gothic Singles
One of the first and largest gothic social networks and online dating sites designed specifically to connect gothic men and women. If you have a darker edge and identify as Goth, this could be the site for you.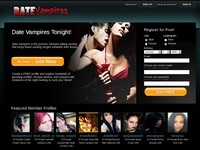 Date Vampires
Fall into the Darkness
Immortality can be boring without a loving companion, which is why Date Vampires is so popular among the un-dead community. Vampires can interact with other vamps as well as meet humans who might be a possible eternal love interest. If you are interested in dating a vampire, this is a good place to start.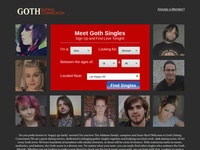 Goth Dating Connexion
Meet Goth Singles! Find Love Tonight!
"With numerous tastes in music, aesthetics, and fashion, the Goth scene is a diverse one. No matter what your taste, you can easily find other singles who embrace the Goth lifestyle."

Vampire Dating Service
Find Vampires Here
Since Vampires live forever, it only makes sense that there would be more and more over time. As people are turned, and the vampire population grows, it increases the number of single lonely vampires. If you like the idea of eternal life, help out a lonely vampire by joining Vampire Dating Service. You may just be a match made in hell!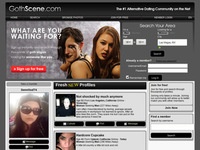 Goth Scene
One Of The Top Goth Alternative Dating Sites Online
Goth Scene prides itself in having real gothic personals where real gothic members are looking to meet other like minded goth friends. Online dating for people into the goth scene has never been easier.

Alt Dating Site: Vampire
Find Your Vampiric Love
As vampire dating sites proliferate to meet the demands of connecting the un-dead with their future eternal loves, every now and then a very special site appears. This is that site. If you consider yourself a child of the night and you seek a vampire to connect with in a deep and meaningful way, this is the site for you.
AD

Goth Alt Dating Site
"Date Goths Who Love the Darkness!"
If you are a single goth you will feel right at home on Goth Alt Dating Site. Music, books, culture, appearance... You will find kindred spirits - and new partners.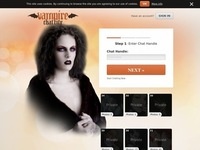 Vampire Chat City
Chat With Vampires Now
Good luck finding a vampire to chat with on a 'mainstream dating site'. As soon as you mention your interest in eternal life with a vampire lover, you will be shunned. That is not the case on Vampire Chat City where you will meet dark-minded individuals who are interested in the same things you are.

Free Gothic Singles
Find Girls and Guys Who Share Your Gothic Lifestyle Today!
Gothic dating is an important lifestyle choice that is embraced at Free Gothic Singles where members are encouraged to celebrate their dark side!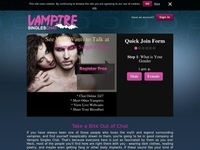 Vampire Singles Chat
Chat Online To Protect Yourself
Interested in meeting a vampire for dating? Romance? Eternal un-dead-ness? Vampire Singles Chat allows you to interact with others in the Vampire community from a safe distance. They do like you to turn up the microphone so they can hear the blood rush through your veins and to hear your heart pumping blood. Have fun!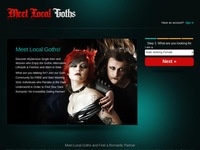 Meet Local Goths
Meet Local Goths In Your Area Today!
"Discover Mysterious Single Men and Women who Enjoy the Gothic Alternative Lifestyle & Fashion and Want to Date."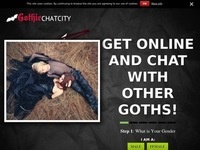 Gothic Chat City
Get Online And Chat With Other Goths!
Looking for dark, sensitive goths to chat with? Tired of regular chatrooms? Gothic Chat City might have just the vibe your are looking for.
AD

Goth Singles Chat
Goth Singles Chat Club!
Jump Online And Keep Things Light (or Dark) at Goth Singles Chat. Meet Great Goth Members For Online Chat.

Gothic Dating Service
Find A Goth Partner
"Gothic Dating Service is the premier Gothic dating service that helps single Goth men and women connect instantly."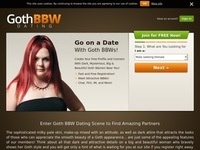 Goth BBW Dating
You Have Found The Goth BBW Dating Scene
Yes, there are Goth BBWs! Big beautiful women express themselves like everyone else, in their own unique way. If you are looking for larger women with a dark side, who are into gothic literature and 'goth culture', then this is the site for you.
*Sites listed on this page are a combination of ads, affiliate related Sites and general non-partnership related sites that match the theme of Werewolf Passions.